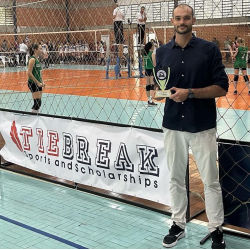 A Student Athlete of the University of Essex – MSc Marketing and Brand Management - , Mark Plotyczer was a professional volleyball player.
Tiebreak works with student athletes who want to use sports as a tool to achieve better opportunities, through scholarships and university placements in the USA, Canada and England.
Mission:
Provide one-to-one advice and professional agency services to student athletes that want to join educational institutions in the USA, Canada and England, and combine their studies with sports to provide better life opportunities.
Founder of the Tiebreak agency:
Mark Plotyczer has been a professional volleyball player for over 15 years. He left Brazil at the age of 19 and has lived and played in Europe and the Middle East for more than 11 years. An Olympic athlete, Mark was part of the British national team for 5 years and competed in London 2012 Olympic Games. Head coach of Tendring VC in England and Champion of the English Superleague as well as assistant coach of the University of Essex volleyball team. He worked at the Rio 2016 Olympic Games as a media manager, and is now responsible for the implementation, strategies and operational part of Tiebreak agency.
"In sports, when there is a tie, a tiebreak is used to determine the winner of the game. That is exactly what we want for our student athletes: a differential to win in life."